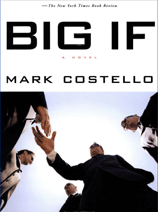 Title:
Big If
Author(s):
Mark Costello
El-Camel's Ratings:






Publisher:
W. W. Norton & Company

Reviewer:
Adam

---
** CONTRIBUTE A REVIEW **

---
This is an intriguing tale starting off with a family, then as the younger members grow up and seperate, so do different tales splinter off.

Finding herself in the deep end in the Secret Service, Vi is one of a team guarding the vice president during his run for election.

After the disappearance of team member Felker, a former plans analyst and whose security certainties which govern the protection of the Vice President, doubts about their ability to protect their charge are raised.

Because these agents are all set into the certainties, the counter-plans, the likelihoods and failsafe methods predicted by Felker, they cast the possibility of taking a bullet for the VP into the background (their priority).

Vi's brother Jens, the geek creator of the post-apocalyptic game Big If, is suffering a conundrum of moral high-ground versus enormous wealth from creating a monster (well, a computer game monster in high school dropout form called Todd).

The main idea behind Big If, discusses how big decisions in life (if statements are the 'what if?' decisions that help navigate a computer program) affect you.



---
Oilzine Members Reviews
Big If
** CONTRIBUTE A REVIEW **

---
---

Add A Review...