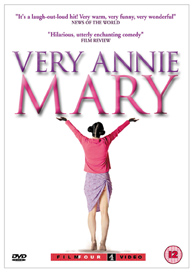 Title:
Very Annie Mary
Starring:
Rachel Griffiths, Jonathon Pryce,
El-Camel's Ratings:





Format:
*********

Reviewer:
Viesha Tews

---
** CONTRIBUTE A REVIEW **

---
This focuses on the trials and tribulations of Annie-Mary (Rachel Griffiths), who has been oppressed all her life. Brought up by her cold opera-singing father (Jonathon Pryce), it seems she can never put a foot right. A few years ago, Annie-Mary had won a scholarship to study Opera in Milan, but gave it up, as her mother was dying. Since than, her father, a tenor modelling himself on Pavarotti, has overshadowed her whole life, like a mighty oak eclipsing a hopeless sapling. That is, until the giant is felled by a stroke, allowing a glimmer of sunlight into the wretched saplings life.
A number of events form the catalyst giving her the chance to get away from the stifling atmosphere of the small Welsh village, and do things for herself rather than just being a dutiful daughter.
A selection of delightfully funny moments include Mrs Ifan's (Ruth Madoc) sponge cake doubling up as a sexual innuendo, scratch & sniff bibles, and a Demis Roussos look-alike.
Actually a bittersweet story, with an equal amount of sadness to contend with, though it never gets sentimental. Perhaps the saddest thing for me was that the only concession Annie-Mary's father makes is to mouth the words of her song. Even when a stroke confines him to a wheelchair, his attitude to her does not soften. Thankfully, for our heroine, her best friend Bethan Bevan (Joanna Page) has never stopped believing in her and her singing voice.
Poor Annie-Mary, gauche and clumsy, let's face it, how many of us have had the misfortune to receive a cabbage for our birthday! Being a product of the superficial world we live in, I must admit, I was dying for her to have a makeover/clothes/haircut or just make some sort of improvement to her awkward appearance, but had to settle for an inner change, which I guess must ultimately precede any outer changes.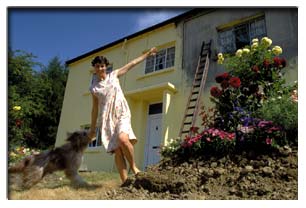 Others around her have always thought of her as an ugly duckling, so much so she believes it herself, and the nearest she gets to becoming a swan is when she finally consents to sing. This Cinderella rather than be magically whisked to the ball, has to strive and struggle to build her own ballroom up from nothing.
A sort of Under Milk Wood meets Carry-on, look out for the characters Hob and Nob, (Ioan Grufford and Matthew Rhys), two gay shopkeepers, plus Hinge, Minge, Fringe and Bracket, the local girl group. I have to recommend it, if only because it is one of the most peculiar films I have ever seen.
Available now on VHS(£12.99) and DVD(£19.99).
---
Oilzine Members Reviews
Very Annie Mary
** CONTRIBUTE A REVIEW **

---
---

Add A Review...