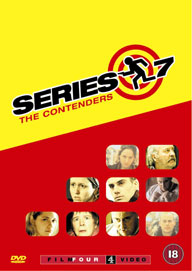 Title:
Series 7: The Contenders
Starring:
Brooke Smith,
El-Camel's Ratings:






Format:
*********

Reviewer:


---
** CONTRIBUTE A REVIEW **

---
A gripping portrait showing how the unfettered evils of the TV game show reign supreme and are accepted and revered by society without question.
Managing to be deliciously humorous at the same time as utterly harrowing. I would not recommend eating dinner whilst watching this!
The contenders are selected at random by lottery, given a gun, a cameraman, and let loose. Refusal is not an option. What ensues is a dog-eat-dog battle to win; the only rule is kill or be killed, by any means necessary.
Can you imagine Anne Robinson or Chris Tarrant issuing shotguns to their contestants? Or how the feathers would fly if guns were handed out in Big Brother or Survivors?
Licensed to kill, yes, but not a martini in sight. Shot in low budget style, it actually comes across as more believable than a glossy blockbuster. The characters are mostly ordinary too, as opposed to the stereotypical gangsters and suave agents we are accustomed to.
Dawn, the protagonist played by Brooke Smith puts in a captivating performance as the heavily pregnant reigning champion. Now Frances McDormund's pregnant policewoman in 'Fargo' was brave and brilliant, but Dawn's matter-of-fact approach to murder is truly chilling.
The most despicable character is Connie, a hypocritical religious nurse, complete with the tricks of her trade. Her vitriolic hatred of Dawn, mainly for being a single mum-to-be, are clearly voiced; 'God should come down and f*** her mother just for having her!'
Others include Lindsey, a teenage girl who is urged on by her parents, as a military sergeant drills his soldiers; Tony an unemployed family man, and Franklin, an OAP who lives in a trailer.
This leaves us with Jeffrey, an artist, dying of cancer. It transpires that he is an old flame of Dawns, and clever use of art-school style video with both of them in full Goth make-up and clothes, complete with Joy Division's 'Love will tear us apart' (an apt track if there ever was), fills in the missing pieces.
With the final showdown, reminiscent of a modern day 'Duel in the Sun' set in the shopping malls & small town suburbia rather than the high plains, I wonder if the film was saying 'pick new life or death'.
If we think Television's direction and our taste for entertainment is becoming increasingly manipulative and conniving, this could be a stark warning for the future.
Twisted, dark comedy, anyone in the mood for heavy satire mixed with Reservoir dogs violence, will enjoy this.
Available now on VHS(£12.99) and DVD(£19.99).
---
Oilzine Members Reviews
Series 7: The Contenders
** CONTRIBUTE A REVIEW **

---
---

Add A Review...