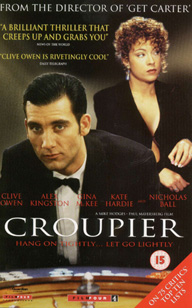 Title:
Croupier
Starring:
Clive Owen, Gina McKee, Alex Kingston, Nicholas Ball, Kate Hardie
El-Camel's Ratings:







Format:
*********

Reviewer:


---
** CONTRIBUTE A REVIEW **

---
From the title of the film, you might be lead to believe that it's about casinos and the glamorous world of the gambler. Well hold that thought right there, because this is not a Scorsese movie, not a De Niro or Stone in sight. Instead, our own more than capable Clive Owen and Gina McKee excite.
Croupier is a tense and enthralling British crime thriller, as smart as the protagonist himself is. Owen excels as Jack Manfred, a first-time novelist frustrated by the inane standards of the publishing world, supported by his store detective of a girlfriend Marion (Gina McKee). Jack is a supremely confident man who is struggling to finish his first novel, which has landed him in debt.
On the advice of his gambler father (Nicholas Ball), Jack takes a job as a croupier at the Golden Lion. Having grown up around the green baize of the gaming tables, Jack sees his job as a chance to observe people as subjects for his novel ("Books stacked like chips. He would write about the world he knew from the inside"). The job appeals to Jack's need for control and emotional distance. He enjoys watching the suckers play at life and risk losing. Jack believes that behind the quiet safety of the cards, he is indomitable. Or so he thinks. His narration of how the casino works draws us into the rules of the games.
He's soon making a tidy living as a dealer, despite the objections of his girlfriend Marion (Gina McKee), who thinks his job is taking him away from his true calling as a writer. Marion states that she is "gambling on him".
Whilst Jack doesn't gamble himself, he has the dexterity (and enough contempt for the game) to be a good dealer ("Gamblers are born liars and superstitious").
"A good customer is a consistent lose".
There is a distinct risk that the film is going to be spoiled by a number of literary pretensions, especially when Jack narrates the film in the voice of Jake, a character in his novel. But the narration is acidly delivered by Owen, whose performance radiates complexity and seductive cool.
Other characters include a drug-taking croupier Bella (Kate Hardie), and a South African femme fatale Jani (Alex Kingston), who successfully penetrates Jack's façade, with the capacity to turn him into one of the suckers. Micky is a bit part character, but one which commands the screen and is well looking forward to be seen (perhaps most memorably seen as the urchin who encouraged Christopher Eccleston to "let him 'ave it"). More use could have been made of him.
Nevertheless, truly, this film is all about Jack\Jake (Owen). Owen looks good as a blonde, although his "out of office" dress sense leaves something to be desired (what is the hat and braces over the jumper all about, looking like a boyfriend of a Bananarama in the 1980's).
Director Mike Hodges, who must have been knocking on seventy when the film was originally released, won critical acclaim in 1971 for Get Carter, starring Michael Caine (doyen of the "Loaded" generation).
---
Oilzine Members Reviews
Croupier
** CONTRIBUTE A REVIEW **

---
---

Add A Review...