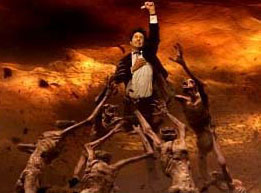 Title:
Constantine
Starring:
Keanu Reeves, Rachel Weisz, Tilda Swinton, Gavin Rossdale
El-Camel's Ratings:





Format:
Cinema

Reviewer:
Mina

---
** CONTRIBUTE A REVIEW **

---
Based on DC Comics' Hellblazer, Constantine plummets Keanu Reeves once again into a supernatural tale of good versus evil. But this time he's 'neutral'.
He's a demon-killing psychic who has been resuscitated after attempting suicide. He knows that when he dies he is going straight to hell because God won't allow him into heaven in lieu of his suicide attempt.
There is an abundance of bugs and blood, although those of you who have seen Men in Black will be well - prepared.
The script writer has taken a very interesting perspective on the God / Lucifer relationship. The idea is that there is a pact between God and the Devil whereby they compete for human souls. God is presented (although not actually seen) as being indifferent to mankind.
The angel Gabriel (Tilda Swinton), who's marvellously represented as androgynous, is forever interfering in John Constantine's (Reeves) life.
There are few cheesey Van Helsing-style moments, but on the whole it is a deeply entertaining watch.

---
Oilzine Members Reviews
Constantine
** CONTRIBUTE A REVIEW **

---
---

Add A Review...