FMyLife
www.fmylife.com
And you thought you had it bad... Chances are you'll find someone here who's been through much worse, and how!
Author: Adam
---
Characters Unlimited, Inc.
www.accessnv.com/characters/people.html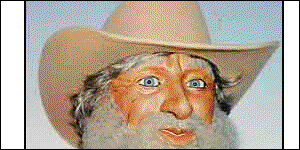 They're life-size, mechanically-animated, custom-made, and hand painted dummys. But what's the point?
Author: michelle mcguinness
---
The Internet Conspiracy Generator
www.westword.com/extra/conspire.html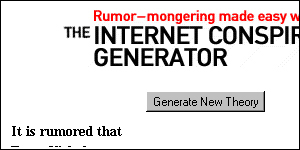 You've no doubt heard lots of conspiracies. Now here's the chance to make your own. It's never been easier to seem like a nutter.
Author: michelle mcguinness
---
Bill Oddie dot net
www.billoddie.net/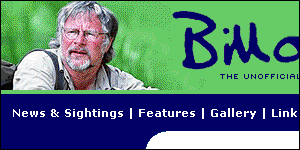 An unofficial fansite. It has the latest news, tour dates and sightings of Bill, aswell as memorabilia and photos of Britain's favourite twitcher.
Author: michelle mcguinness
---
The Complete Guide to Cows
eleves.supaero.fr/ASCII/images/Cows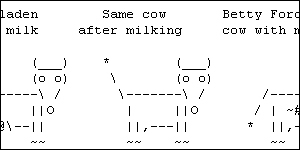 Lots of pictures of cows. Made from the characters you find on a keyboard. Some of them very simple, some very intricate, some ..., erm, interesting
Author: michelle mcguinness
---
Dave's Web of Lies
www.davesweboflies.com/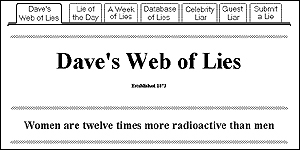 A site (one of the best you'll find) dedicated to lies, lies, damn lies. They apparently employ a trained team to trawl the info they receive and remove anything that even remotely resembles the truth. So you are safe in the knowledge that what you read will be the false.
Author: michelle mcguinness
---
Cartoon Dolls
maxpages.com/dolls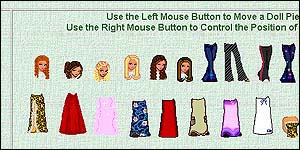 Dress your own dolls and accessories without ever having to get your hands dirty. You don't get to see the androgynous privates though. Shame.
Author: michelle mcguinness
---
Salad Fingers
http://www.fat-pie.com/salad.htm
For all those who love Roman Dirge's Lenore, this is a real treat. Salad Fingers, a harmless green loner has a penchant for rusty spoons and other kitchen utensils that have gone the way of the oxidised.
Author: 你们的神话 china-canfeng(残风)来了
---
Ray's list of Weird and Disgusting foods
www.andreas.com/food.html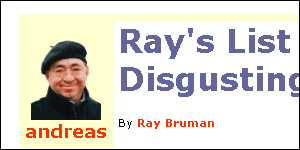 Remember that time as a kid, when faced with some large pile of greens and being told to eat up. You can't leave the table until the plate's clean. You have to admit, it works. I like my greens and sometimes even choose to have them on my plate. How lucky I was that I grew up in Bradford and not another part of the world or it might not have been limp cabbage that I had a staring match with. It could have been a live monkey with it's cranium unscrewed. Or a rotted fish. Or just it's eyes. Or perhaps I'd be force-fed a tiger penis. Lightly saut閐 in a mustard and garlic sauce. Scrumptious.

At www.andreas.com/food.html Ray Bruman has collected a comprehensive list of peculiar, sickening food from around the world. Most of it is revolting, however strangely I found myself disagreeing with some of the selections from Britain. I happen to think Irn Bru is lovely, as is warm Beer and fried bread. It takes all sorts I suppose. Some of you may think owl soup is gorge, and head cheese (boiled animal heads in jelly) is to die for. I know one of my mates, for definite, would think so.
Author: Stephen Pryke
---