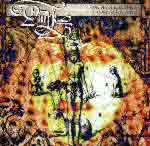 Title:
Machina Electronica and Fornax Chemica
Artist(s):
Quirk
El-Camel's Ratings:




Label:
Matsuri
---BUY THIS ALBUM---
Reviewer:
jerome boyd maunsell

---
** CONTRIBUTE A REVIEW **

---
Splenetic critics in the past have always had a field day with psychedelic trance, reserving their most savage asides and caustic put-downs for the genre. It's always going to be easy to knock the frazzled Goa tribe, and their lazy pharmaceutical philosophies. Maybe it's the over-indulgent noodlings of most generic trance music that attracts such avid vitriol – music that might sound like seeing God under the influence of several microdots, but it otherwise remains hyperactive muzak; the aural equivalent of a fly flitting backwards and forwards in mindless rapid strokes.

Worse still, with watered-down power trance (that lucrative combination of house and early '90s trance) from sundry dodgy outfits invading the charts and the airwaves like there's no tomorrow, the 't' word is almost taboo these days – invoking visions of DJ Jean and Eiffel 65 pumping out satanically catchy synth motifs, accompanied by explosions and strobes, sponsored by Pepsi.

Compared to such soul-selling criminals though, Quirk seem positively redemptive. They owe their existence in a sense to the Goa trance scene, but they have a much more open-ended sonic manifesto than most of their addled contemporaries. They are a duo – Mark Allen and Tim Healey – who made their name at parties like Pagan in London, and more recently Return to the Source. Mark is probably the DJ focus of the partnership, while Tim is more the studio bod. While there are obviously lots of strong psy-trance influences on these recordings, the agenda is much more freedom.

Machina Electrica and Fornax Chemica is the earlier collection, and also sticks much closer to a psy-trance blueprint. With a title like that, the project was probably just doomed from day one (only joking.) There are still plenty of amusing oblique strokes on the album, with cheeky tracks like 'Ping,' which samples a table-tennis match, and stops and starts in such a way that you can't help but smile. There's also strange vocal samples, falling trees, and all number of exotica thrown into the mix at random on other tracks. Quirk show all the other signs of being terminal sound and beat junkies, with neat touches peppered all over the production. Final track 'The Haile Sensitive' is a special treat – a mellow stand-out, even if its beatific ambient strains are a little dated.

---
Oilzine Members Reviews
Machina Electronica and Fornax Chemica
** CONTRIBUTE A REVIEW **

---
---

Add A Review...