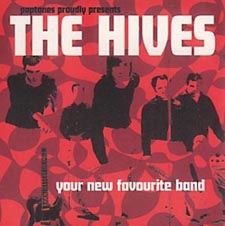 Title:
Your New Favourite Band
Artist(s):
The Hives
El-Camel's Ratings:







Label:
Poptones
---BUY THIS ALBUM---
Reviewer:
Simon Matthews

---
** CONTRIBUTE A REVIEW **

---
Imagine the 'Strokes' add a little 'At the Drive In' add a screaming Swede and the continuity of black and white you have the saviors of Swedish rock 'The Hives.'
Rated as 'one of the bands of the moment' this collection of hits from there previous two albums lives up to the hype. From the current single 'Hate to say I told you so' to the catchy 'Die, All Right!' the hives have a perfected the art of creating great guitar riffs which will please any rock fan.
The soon to be teen anthem 'Untutored Youth' captures the essence of being a teenager 'If you can't hear me just start looking at my mouth.' The sing a long 'A.K.A I-D-I-O-T' and the radio friendly 'Main Offender' allows any music lover to enjoy this album.
This 28 minute LP may be short and sweet but it leaves you humming the songs for days.
The Hives should be your new favourite band.
---
Oilzine Members Reviews
Your New Favourite Band
** CONTRIBUTE A REVIEW **

---
---

Add A Review...