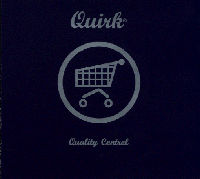 Title:
Quality Control
Artist(s):
Quirk
El-Camel's Ratings:





Label:
Matsuri
---BUY THIS ALBUM---
Reviewer:
jerome boyd maunsell

---
** CONTRIBUTE A REVIEW **

---
Quality Control is a much more enticing affair, than 'Machina…'. Straddling dance genres from tech-trance, house, and trip hop, there's some seriously diverse tackle on offer here. 'Sleazy Listening' marries thumping house beats to a vocal not a million miles away from Gary Numan. It's also got the attitude of Leftfield & Lydon's Open Up from a few years back. Other tracks showcase Bulgarian choirs, classical guitars and other esoteric delights, over a rhythmic landscape of alternating 4/4 and breakbeats.

There are still some straight-ahead trance tracks, but they fit fairly well into the album as an overall experience. 'Salvation' is perhaps the trump card – reminiscent of the old Birmingham-based Ambient Dub series with Higher Intelligence Agency and suchlike. There's also a special Quirk CD-Rom which is Mac and PC compatible, if the music wasn't enough. The only gripe about the album is that it feels too slick – there are none of the abrasive, DIY thrills one finds from much more livewire contemporary electronica – Warp, Skam, Rephlex et al. Whereas Quirk deserve congratulations for straying out of the trance stable, perhaps they won't be a truly class act until they push the boat out even further.

---
Oilzine Members Reviews
Quality Control
** CONTRIBUTE A REVIEW **

---
---

Add A Review...