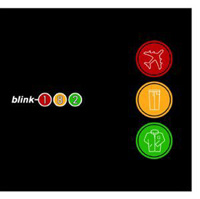 Title:
Take Off Your Pants And Jacket
Artist(s):
Blink 182
El-Camel's Ratings:





Label:
MCA records
---BUY THIS ALBUM---
Reviewer:
Simon Matthews

---
** CONTRIBUTE A REVIEW **

---
The punk trio return with yet another hormone fuelled, poppy sweetener for the youth of today.
The chart friendly childish punk rock kicks straight off with the melodious 'Anthem part two' which continues where 'Enema of the State' left off. But the political influence to the 'Anthem part two' is off some shock, are blink going all political?
Yeah right and Maggie Thatcher is appearing on the cover of FHM.
I DON'T THINK SO, the childish punk rock drives itself forward from the start to finish. From the successful 'The rock show' to the grandma friendly 'Happy holidays, You B*****d.'
Any teenage will be able to relate to songs like 'Story Of A Lonely Guy' a definite highlight of another fun packed , toilet humored blink classic.
'Take off your pants and jacket' isn't anything new it is simply a fantastic piece of fun filled bubble gum punk rock.
---
Oilzine Members Reviews
Take Off Your Pants And Jacket
** CONTRIBUTE A REVIEW **

---
---

Add A Review...