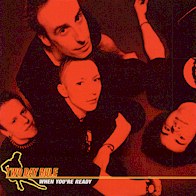 Title:
When You're Ready
Artist(s):
Two Day Rule
El-Camel's Ratings:






Label:
Sugar Shack Records
---BUY THIS ALBUM---
Reviewer:
viesha tews

---
** CONTRIBUTE A REVIEW **

---
At a time when the population is in danger of drowning in a sea full of artificially manufactured bands, it is refreshing to hear one that's a real band, playing real instruments, living real lives, feeling real feelings, etc. Give me these any day over manufactured bland pap. What they may lack in polish is more than made up for by their guts, grit and get-up-and-go.
Furiously fast & energetic, they sing about real life, and its disappointments, but in a way that brings you up rather than down.
Vocals are shared (at times fought over) between Andrea and Neil, resulting in enhanced dramatic tension. Every so often, we are treated to their harmonies set against the backdrop of amphetamine-driven drumming, stabbing bass and frantic guitar riffs. Not scared to draw upon a variety of influences including punk, thrash, ska, even swing-jazz, this lot actually sound like nobody else, and sound like they're having fun with it.
Makes me want to get up & go out, get nicely pissed in one of those dark rooms that pubs put live bands on in. Actually can't wait to see them live at the Underworld, Camden (March 12th). Miss them at your peril!
---
Oilzine Members Reviews
When You're Ready
** CONTRIBUTE A REVIEW **

---
---

Add A Review...