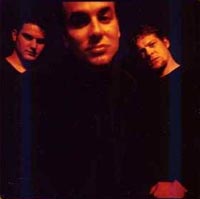 Title:
Echobrain
Artist(s):
Echobrain
El-Camel's Ratings:






Label:
Chophouse / Surfdog

Reviewer:
viesha tews

---
** CONTRIBUTE A REVIEW **

---
I really liked the first track, reminds me of the time I found myself in a car with a bunch of new mates, having made a life-changing decision and put the past behind me. I didnít know exactly where we were headed, but the main thing was, when we got there, we were going to PARTY! The rest of the album follows on in this mood.
Those of you out there still holding a candle for Led Zep or Aerosmith will not be disappointed; the same goes for Radiohead fans. Certain tracks provide a platform for what could have been Alanis Morisette's brother's slightly more polished angst.
Tracks 6 & 7 brought the mood down, a little sad for my tastes, they reminded me of some of my big bruv's obscure prog rock records, Stackridge I suspect. The last three tracks certainly bring the mood back up.
I was impressed by the occasional addition of strings in the background, creating a poignancy seldom achieved in today's music, this being set against crunchy guitar riffs, janglesome acoustic strums, clever use of lead guitar, brooding bass, remarkable drums and percussion, and extraordinary theremin thrown in for good measure! Not forgetting accomplished vocals.
Actually it's intriguing to hear something made from three musicians from very different backgrounds, it's not every day that an ex heavy metal bassist joins creative forces with a singer-songwriter and an ex jazz-funk drummer!
---
Oilzine Members Reviews
Echobrain
** CONTRIBUTE A REVIEW **

---
---

Add A Review...